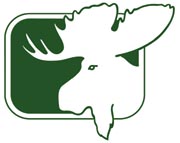 Amherst Branch Grand Opening






MOOSE BANK OPENS FULL-SERVICE AMHERST BRANCH



Headquartered in the far northern region of the state known as The Great North Woods, First Colebrook Bank has just opened a new full-service branch in the far southern area of the state, in the town of Amherst at 69 Route 101A. Founded in 1889, First Colebrook Bank has been serving the banking needs of individuals and small businesses in northern New Hampshire and Vermont for over 115 years. "In 1997, to capitalize on our growing success in serving small businesses and to diversify our base of customers, the bank branched south into Concord," says Jim Tibbetts, the bank's President and CEO. "It took us 108 years to establish that second location. But it was so successful, it only took eight years to open this new branch in Amherst."

It seems only natural that a bank with roots in the logging industry would open a new branch with a log-cutting ceremony, held recently at the Amherst site, in place of a traditional ribbon-cutting. George Van Dyke, a legendary lumberman, founded the bank, and the current Chairman of the bank's holding company is Malcolm Washburn of the forestry products industry. "Our immediate success in Concord led to our opening a small business loan center in Amherst in December 2003 to begin serving small businesses in the Souhegan Valley area," Tibbetts continues. "Last summer we opened a temporary branch for the general public and now we celebrate the opening of the brand-new, full-service branch here in Amherst."

Tibbetts sees the new Amherst branch as an opportunity to bring the personalized service of the "Moose Bank" to a new area of the state. "We're a New Hampshire-owned community bank with deep roots in the communities we serve. The bank and its employees are fully committed to civic involvement and community projects and play an active role in supporting charitable events. It is part of our heritage."

"We think people in most communities would prefer to bank with a locally owned institution that provides the personalized service and financial products that meet their needs. And that means fast responses to their requests," continued Senior Vice President Loyd Dollins. "Many of us have been involved in the Amherst/Milford area for a number of years and our team of employees in Amherst includes a number of well known people in the banking and business community. It seemed to us for some time that there was a need for a quality, community bank to service area businesses as a commercial lender while at the same time providing personalized services to families in the community."

The Small Business Administration's Office of Advocacy has recognized First Colebrook Bank as "New Hampshire's most small-business-friendly bank". In his remarks at the ceremony, New Hampshire bank commissioner Peter Hildreth noted, "First Colebrook Bank understands the particular needs of local businesses and they understand what it is that people in the community want."

"I've been asked," says Tibbetts, "'can a community bank really compete against the large nationally and internationally owned banks so prevalent today?' We think we actually hold an advantage over them. All loan decisions are made locally, so customers get answers to their requests rapidly. Our products and services are the very latest the industry has to offer: a drive-up ATM, an Internet café in our Amherst lobby, extended banking hours including early morning, late day and Saturdays at our new Amherst branch, and later this summer, Internet banking. We also offer highly competitive rates."